Delivery Information
All our deliveries are made using our own vehicles and fully trained staff. We use top of the range equipment for delivering all our Hot Tubs, which include Spa Trolley, Electric Pallet Mover and Airbags. Once you have made your purchase with Combined Shipping, you will be contacted to book in delivery, emailed confirmation of delivery date and then on the day of delivery, our delivery team will call on the day an hour before arrival.
Please note we cannot guarantee an actual time of delivery, they are all day appointments
. It is really important that adequate access is available for the size and weight of the Spa for positioning, please see below delivery specifications.
We offer the following delivery options (UK Mainland Only):-
1. Delivery Kerbside
Should you require a kerbside delivery, please check out with delivery & position and email us.
Note: Combined Shipping Company Ltd do not offer a crane service, we can put you in touch with a Crane provider, who can quote you for this.
2. Delivery & Position
Hot Tub will be positioned into garden.
Delivery Prices UK
Delivery & Position £300.00
Delivery Prices Cornwall, Devon & Scotland
Delivery & Position £400.00
3. Delivery & Installation
Delivery & Installation £550.00
What's involved with an installation, we fill the Spa, connect electrics (note: 32amp and above Spa's electrical cabling will need to be installed by a fully qualified electrician, leaving enough trailing cable to reach the furthest point of the Spa), build step and cover lifter, add chemicals, completely check all functions, explain all the functions of the Spa and control system, show you how to add chemicals and what the chemicals are for - this can take 2-3 hours to complete.
All our prices are inclusive of VAT
For locations outside the UK Mainland, please contact us for further details and pricing.
Hot Tub Delivery Specifications
Important Information Regarding Delivery & Placement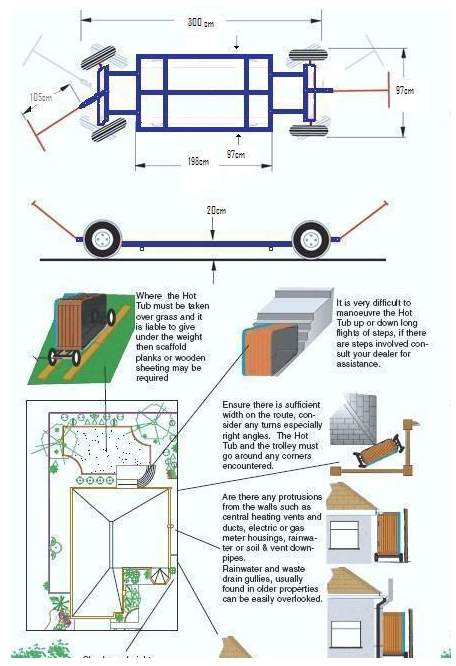 In order for us to deliver and position your spa successfully we must request the following applies:
- No steps over 15cm high (any more than 1 step we would need to see photos)
- No Walls
- No Fences
- No steep Gradients to go up or down
- Clear pathway to spas desired location
- Other obstacles that could block/restrict our passage
- 1.15 meter width clearance and 2.4 meter Height clearance throughout the entire pathway from vehicle to spa base (Trolley width 97cm)
- No sharp turns with less than 2 meters clearance
For tighter gaps we have the use of a Spa Sled, width required is the height of the spa plus 5cms (example Rose is 88cms+5cms = 93cms width required)
Please Note: If you do not comply with the above points or keep information from us that could affect us delivering and positioning your spa on the date of delivery, we have the right to refuse delivery. It is in your best interest to notify us of everything, no matter how small, that may prevent us being able to deliver your spa prior to date of delivery as we may have a solution or could bring certain equipment on the day to assist us with manoeuvring the spa. If we are in a position where we are unable to carry out our service on the day, the spa will either be delivered to the kerb or returned to our distribution Centre, and your delivery charge will not be refunded. If at this stage you wish to arrange the delivery for a later date you will be required to pay the full delivery/position charge again.
Please also note that we exclude any liability for damage to lawns/borders/pathing if we are required to cross to effect position. Spas weigh on average 350 kilos and it is the Customers responsibility to ensure any sensitive areas are protected.
**IMPORTANT NOTE**
Ensure you have adequate access for size and weight of the Hot Tub.
Ensure you have suitable electrics in place,

13amp Plug & Play Hot Tubs come with 2-3 metres of cable and will require a Waterproof RCD protected socket.
32 amp Hot Tubs do not come with any cabling as this needs to be installed by a fully qualified electrician in order to meet building regulation.

If you wish us to remove the Hot Tub Packaging of shrink wrap, foam and cardboard (excluding pallet) there is a charge of £20.
A charge will be levied if we are unable to carry out the delivery, position or install – see website for terms & conditions.