You are just about to get into your Hot Tub and it's dead, no power, don't worry, on most occasions it can be a very simple fix. Use these steps to troubleshoot a "Dead Hot Tub".

Warning: Electrical repairs can be dangerous. We recommend that electrical service be referred to by a qualified technician. Regardless of who performs the work, make certain that all electrical power to the hot tub or spa is disconnected prior to making any inspections or repairs. This information is provided for educational purposes only. If you hire a qualified technician, this will give you a better understanding of the diagnostic process involved.

Tripped Breaker
Check the main circuit breaker which provides power to the Hot Tub, reset the breaker, if it trips repeatedly it could be a faulty breaker or the voltage is incorrect, on some occasions you can have a faulty/over sensitive RCD, water in the isolator or a loose cable. Running a Plug & Play Hot Tub using a 16amp breaker may cause your power to trip, a minimum 20amp is required. Note: if the Spa runs for 5-10 mins without tripping electrics, this is normally a household electrical issue (consult an electrician).

Fuse in Plug
If you have a plug and play hot tub, check the fuse in the plug, make sure all the wires live, neutral and earth are seated correctly, ensure the plug is dry and never allow plug to get wet. Never plug a plug and play hot tub into an extension lead and always ensure that you have sufficient load to supply the hot tub, if unsure consult an electrician.

Wires into Hot Tub
Check the live, neutral and earth wires are seated correctly into the control board and ensure there are no pinched cables.

Blown Fuses on the Control Board
Fuses are there for safety and to protect your hot tub from further damage, on most occasions fuses tend to blow due to power surges or power cuts. With a multi-meter check each fuse to ensure they are good, the glass fuses blow behind the metal plate and look like they are fine.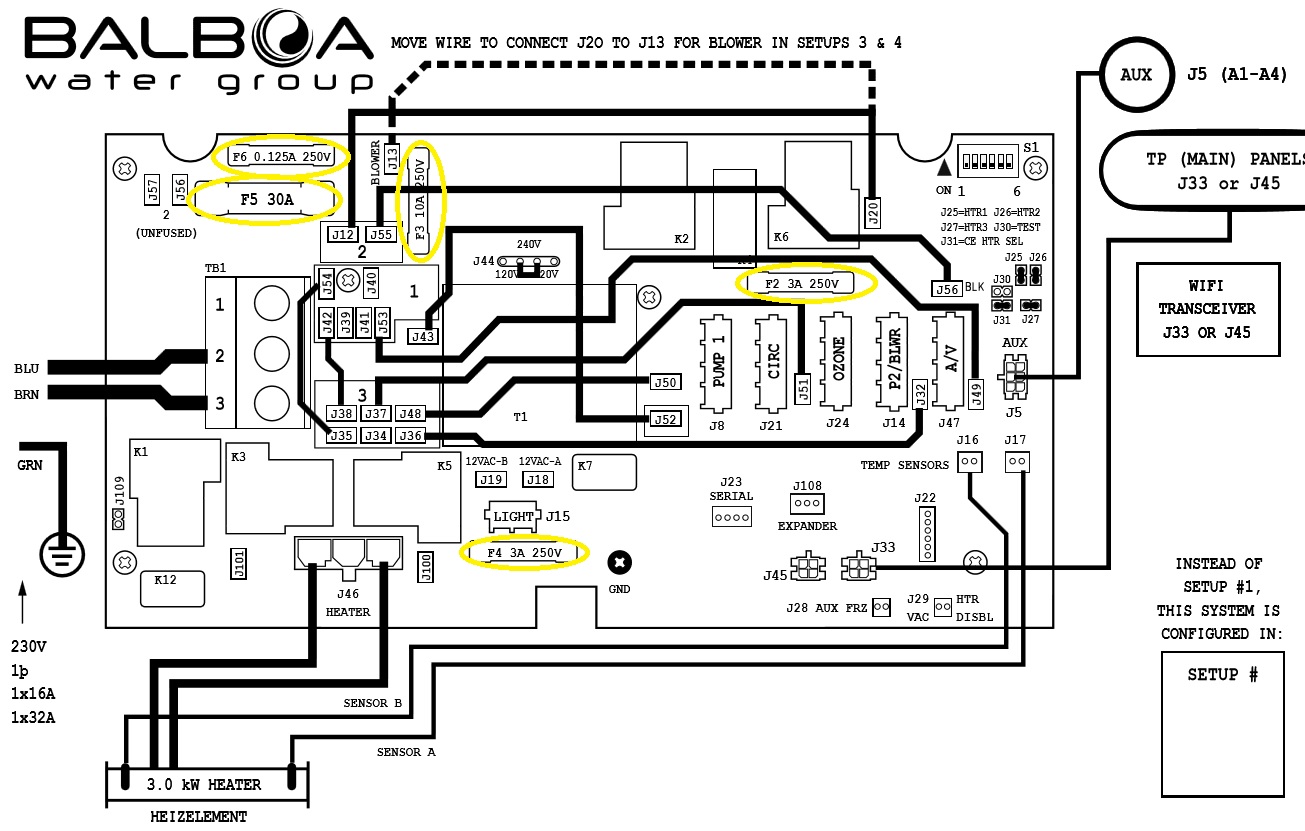 Picture is an example control board for Balboa BP601
NOTE: If your electrics keep tripping or fuses blowing, this can be due to faulty component such as pumps, heater or ozone generator
- please contact us to arrange an engineer to visit.